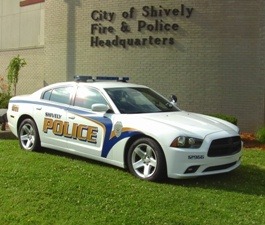 From the Chief
On behalf of the men and women of the Shively Police Department, I would like to welcome you to our web site. The site is user friendly and offers a wide range of helpful information as well as the history of the City of Shively, KY.
We strive to offer the most efficient service to the citizens of this community in a professional and effective manner. The Shively Police Department has received accreditation through the Kentucky Association of Chief's of Police and has maintained this high level of success since 1998.
Thank you for visiting and we look forward to serving the citizens and businesses of Shively on a daily basis.
Mission Statement
Our mission is to provide safe and efficient service to the citizens of this community in a dedicated and professional manner.
Statement of Values
TEAMWORK: We believe that effective policing is accomplished by police/community teamwork to identify problems and work together to reduce crime and fear of it.
RESPONSIBILITY: We have a responsibility to honor a commitment to involve citizens in all policing activities that impact their lives.
UNDERSTANDING: We shall enforce all laws and ordinances, affording respect and understanding to all persons, while safeguarding individual's rights that are guaranteed by the Constitution of the United States.
SERVICE: We hold ourselves to maintain the highest degree of service, to obey all laws and ordinances and to serve as role models to our fellow officers and community.
TRADITION: We must constantly strive to maintain dignity and integrity, while establishing a tradition for the future members of the Shively Police Department to live by.
POLICE LATERAL OPENINGS
The City of Shively Civil Service Commission hereby gives notice of qualifications for the positions of Lateral Police Officer.
Applicants must be current certified police officers with at least 2 years of experience and no more than 10 years of experience. Applicants must be at least 21 years of age, High School Graduate or GED Certification, must possess a valid operator's license, must not have been convicted of a felony, or have criminal action actively being prosecuted. Misdemeanor convictions will be considered on an individual basis. Applicants must successfully complete a background investigation.
Lateral applicants must already be certified through the Kentucky Law Enforcement Council/Police Officer Professional Standards as stated in the Kentucky Revised Statutes. Certifications from other states will be considered on a case by case basis.
Lateral applicants will be required to successfully complete phases of the KLEC/POPS testing including suitability screening, polygraph examination, drug screening and a background investigation. Testing dates will be determined later.
Applications may be picked up between 8:30 A.M. and 4:00 P.M. beginning Monday, July 15, 2019 at Shively City Hall, 3920 Dixie Highway, Shively, Kentucky 40216.
All applications must be turned in to City Hall in person. Filling deadline is Friday, July 26. 2019 at 4 P.M.
The Shively Police Department is a Home Rule Agency as defined by KRS 95.450