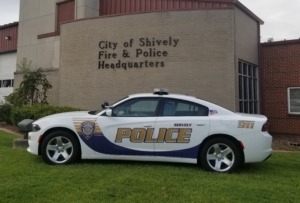 NOW HIRING LATERAL OFFICERS
*** The deadline for applying has been extended indefinitely as we have recently changed our patrol schedule to 12-hour shifts. The new schedule will go into effect in January 2021***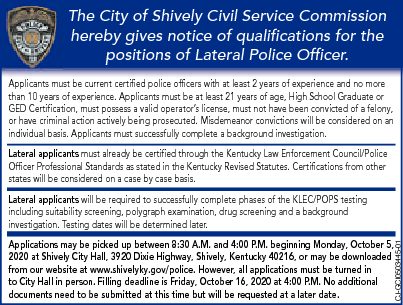 From the Chief
On behalf of the men and women of the Shively Police Department, I would like to welcome you to our web site. The site is user friendly and offers a wide range of helpful information as well as the history of the City of Shively, KY.
We strive to offer the most efficient service to the citizens of this community in a professional and effective manner. The Shively Police Department has received accreditation through the Kentucky Association of Chief's of Police and has maintained this high level of success since 1998.
Thank you for visiting and we look forward to serving the citizens and businesses of Shively on a daily basis.
– Colonel Emery Frye, Chief of Police
Mission Statement
Our mission is to provide safe and efficient service to the citizens of this community in a dedicated and professional manner.
Statement of Values
TEAMWORK: We believe that effective policing is accomplished by police/community teamwork to identify problems and work together to reduce crime and fear of it.
RESPONSIBILITY: We have a responsibility to honor a commitment to involve citizens in all policing activities that impact their lives.
UNDERSTANDING: We shall enforce all laws and ordinances, affording respect and understanding to all persons, while safeguarding individual's rights that are guaranteed by the Constitution of the United States.
SERVICE: We hold ourselves to maintain the highest degree of service, to obey all laws and ordinances and to serve as role models to our fellow officers and community.
TRADITION: We must constantly strive to maintain dignity and integrity, while establishing a tradition for the future members of the Shively Police Department to live by.
About or City and Police Department
The City of Shively was incorporated in 1938 and is located in Jefferson County, Kentucky. We are an independent, urban, third class city within the greater Louisville Metropolitan area. Our population is approximately 16,000 citizens and our city is approximately 4.6 square miles in geographic size.
The Police Department consists of 34 sworn and 6 civilian employees. We maintain 24 hour patrol coverage, our own 911/dispatch center, criminal investigations and special investigations units, canines and a traffic unit.
CORONAVIRUS (COVID-19)
The Shively Police Department takes the health and well being of our citizens and visitors very seriously. We are taking measures to protect our employees as much as possible during this pandemic so that we can continue to provide services to the Shively community.
With the health of our employees in mind, the Shively Police Department is making the following modifications to our responses and public access to our facilities:
Shively Police Station:
Persons needing to conduct business at the Police/Fire headquarters can do so through a speaker box located at our front door. We will limit access to the building to absolutely necessary situations and only after a temperature screening has been conducted. In most cases, your issue can be handled by calling the station at 502-448-6181 as opposed to coming in person.
Persons needing copies of reports should utilize buycrimes.com for criminal reports and buycrash.com for vehicle accident reports. Reports will not be available for pick up at the station until further notice. If you have questions or need information about your report, please call 502-448-6181.
Persons wishing to have open records request filled, please email Major Emery Frye, emery.frye@shivelyky.gov Please be specific on the nature of the request and include dates and times where applicable.
Persons needing a towed vehicle released can do so by using the speaker box at the station's front door.
We thank your for your understanding and cooperation during this difficult time. Once the Federal and State officials have determined that the risk of exposure has ended, we will resume our normal practices and procedures.
Remington Trigger Block Instruction Video
The Shively Police Department is a Home Rule Agency as defined by KRS 95.450