Pictures and Information courtesy of Officer Kyle Brown. Scroll down for photos.

The Shively Police Department got its start on May 23, 1938 when the small community met in the Commercial Club House to initiate incorporation into a city. Incorporation was approved by the state legislature by House Bill 307. The Commercial Club is still standing across the street from Dixie and Garrs Lane.
To establish a basis for historical reasons, and for the basis of the name "Shively", we must go back to about 1780, when Christian and Jacob Shively settled in this area. They purchased a tract of land at what is now known as Seventh Street and Dixie Highway. In about 1810 Christian Shively constructed a mill on a local creek, which is now known as Mill Creek.The first Post Office was obtained in 1902. Many of the citizens wanted to name the Post Office "St. Helens", after the local Catholic parish. However, there already existed a post office named St. Helens in Lee County, Ky. And so the name of "Shively" was established.
In 1938, the City of Shively was incorporated with a reported population of 1,095 citizens. At that time the city was a center of the distilling industry, which contributed greatly to the organization of the city. In 1942, the town became a fifth class city. After the city was incorporated, the fire department, established in 1918 as the St. Helens Volunteer Fire Department, and the town marshal moved into a building originally housing the St. Helens Motor Company at Dixie Highway and Crums Lane. This building housed the police court and was where the town hall meetings were held. In 1950, a fire station was built at 3930 Park Drive. In 1954 a 20 foot by 50 foot addition was constructed to house the police headquarters, police court and City Council meetings. The jail cells were added in 1959 and the back offices were added sometime in the 1960's. In 1974, City Hall and the police court were moved into a new addition of the Newman Memorial Building, which had been built in 1959, at Dixie Highway and Park Drive. In 1978, the radio room and front offices were moved to the front of police headquarters.
Manpower of the police department consisted of a single marshal until a second officer was added in 1947. By 1953 there were four members and by 1957 there were eight. The numbers on the force have fluctuated over the years. An auxiliary police force was formed in 1968 and operated until 1984 when it was disbanded and some of the officers hired as part-time officers. In 1998, our department received state accreditation. In October 1999, the police and fire departments moved into our current facility located just up the road from the old building.
Shively PD Chiefs
Historic Staff Photos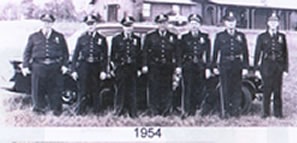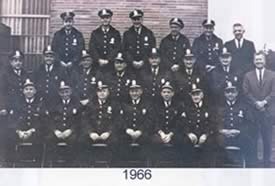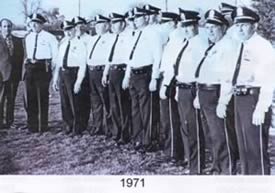 Our Cruisers